Sharivari Records(FR) 「Nakama EP」
feat. United Future Organization, Kuniyuki, Ken Ishi, Haruki Matsuo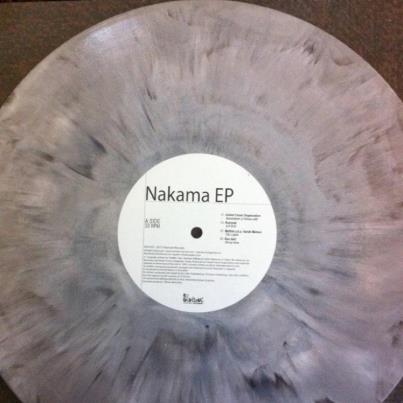 Artist : United Future Organization / Kuniyuki / Haruki Matsuo / Ken Ishii
Title : Nakama EP
Label & Ref : Sharivari Records - SHV010
Format : Vinyl & digital
Release date : January 2013 Tracks :
A1 : United Future Organization - Somewhere (J-House edit)
A2 : Kuniyuki - O-P-S-01
B1 : Matfish aka Haruki Matsuo - City Lights
B2 : Ken Ishii - Decay Area
Description :
For its tenth release, Sharivari presents "Nakama EP", another special project with 4 tracks from the land of the rising sun. UFO's acid jazz classic "Somewhere" gets re-edited by the Serbian duo J-House, aka Jan Nemecek and Danilo Tomic, while Sapporo based musician Kuniyuki Takahashi brings his deep and percussive vision of house music. On the flip, Rush Hour artist Haruki Matsuo and Japanese techno legend Ken Ishii deliver 2 straight but warm & deep techno cuts. 300 copies pressed on marbled vinyl.
More infos at :
Sharivari.rec@gmail.com
http://www.sharivari-records.com
/
http://soundcloud.com/sharivari_rec
http://www.facebook.com/SharivariRecords
http://www.residentadvisor.net/record-label.aspx?id=3888
http://www.discogs.com/label/Sharivari+Records
Artists infos :
United Future Organization
United Future Organization were formed in 1990 as a production team actively engaging in staging fashion, art and club promotions, events and radio shows. Through their collaboration with artists and DJs in Japan, they have become a force to be reckoned with, through their fanatical knowledge of jazz, latin, hip-hop and electronic.
U.F.O's productions have always been experimental, cutting edge and trend setting and the band played an integral part in breaking the acid jazz scene in the early nineties influencing acts such as Jamiroquai, The Brand New Heavies, US3 and Galliano among others.
U.F.O have a strong following all over the world and their supporters include names such as: Francois K, Masters At Work, Dimitri from Paris, Patrick Forge, Gilles Peterson and Ross Allen.
Ken Ishii
Ken Ishii is a Japanese techno DJ and producer from Sapporo. He graduated from Hitotsubashi University. He has released work under his own name as well as under the pseudonyms: FLR, Flare, UTU, Yoga, and Rising Sun, for European and Japanese labels such as R&S, Sublime, Apollo and Sony Japan.
Strongly influenced by Detroit techno, Ken Ishii had his first release on Richie Hawtin's label Plus 8. He still is one of the best known Japanese Techno Artists in Europe and is probably best known for his famous single "Extra" which appeared on his Album "Jelly Tones".
Kuniyuki
Kuniyuki Takahashi (often best known simply as Kuni or Kuniyuki) is a well known Japanese DJ and music producer.
He records under many different aliases including Forth, Frr Hive, Koss, and used to be joint member of the group DRP (Deutsches Reichs Patent) with Tomoyuki Murashige. He also runs his own record label BSC (Bacteria Sound Commune).
His productions tend to fit mainly within the house music and techno styles of electronic music, and have been remixed by Theo Parrish, Henrik Schwarz, Cobblestone Jazz, Joe Claussel or Chateau Flight.
Haruki Matsuo aka Matfish
Haruki Matsuo is a part of the new & talented generation of Japanese techno producers. Since 2007, he released deep techno and house music on labels like Rush Hour, Mule Musiq, Night Moves and op.disc.
スポンサーサイト